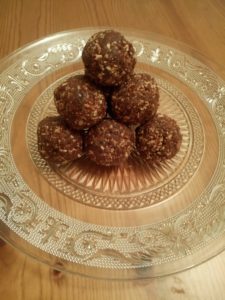 First up, I should say that I can't claim any credit for this recipe – it's by Kris Carr (author of Crazy Sexy Kitchen).
These cacao energy balls are incredibly simple to make – you just need a good food processor or a strong blender. They are my go-to snack to make to bring with me when I go to parties at Christmas. They are so delicious that I don't feel deprived when I don't eat any of the other sugary snacks on offer, and I can eat these in the knowledge that there are no nasty additives. If you think that salt is a strange ingredient, then just try it – it really intensifies the chocolatey flavour of the cacao. The almonds provide protein and fat to keep you satisfied for longer and control your blood sugar. Dates are used to sweeten the mixture instead of refined sugar. As well as being naturally sweet, dates provide a range of vitamins and minerals as well as fibre, so they are not just "empty calories" like refined sugar. Having said this, these energy balls will still raise your blood sugar levels, so have them as an occasional treat, like at a Christmas party!
Ingredients (makes 16 balls)
140g almonds
8 dates, pitted
2 tbsp cacao powder
2 tbsp unsweetened desiccated coconut
Dash of sea salt
Method
Place the almonds, cacao and desiccated coconut into a high-speed blender or food processor. Process on high until the ingredients are broken down into a flour-like consistency.
Add the remaining ingredients and process on medium/high until all the ingredients are incorporated.
Transfer the mixture into a large bowl. Take a tablespoon of the mixture and roll it into a ball. Repeat until all of the mixture is used.
Optional: once the balls are made, you can roll them in some more desiccated coconut to finish.
These will keep in a sealed container for up to 5 days.